Electronics and Instrumentation Engineering Department
Overview
Laboratory
Projects
Staff
Time Table
Today Automation has taken an important role in Industry. Automation requires Instrumentation which uses sensors for measurement of various parameters like temperature, pressure, flow,etc. The measured data is then processed and suitable conditioning and transmission circuits.Further electronic processor are used to process the data received from sensor and for decision making.
At the second year level the student are taught core Electronics subjects and is common with diploma in Electronics.
At the third year student are taught application of electronics in Automation with subject like Industrial automation, Building automation, Electro Hydraulic and Pneumatic control circuits , Control computer control in process plant and Micro controllers.
We have an excellent placement record & many of our pass-out students are well placed in various companies like Cipla, Syngenta, Lupin, Vergo Siemens,Bosch, TCS, Schlumberger, and abroad in UAE, Kuwait in Process control, Oil rigs as well as Building Automation in companies like A1 Futtaim.
Pass out student are eligible to seek admission to Degree in Electronics Electronics and Instrumentation and allied branches.
Electronics & Instrumentation Lab: The Lab is equipped with trainers to imparts skills in core Electronics subjects like Basic Electronics, Analog Electronics, Digital Electronics & Microcontroller, Electronics Instrumentation, Electrinics Measurement.
Industrial Instrumentation: The Lab has trainers for measurement and control of temperature, pressure, level and flow which are important process parameters measured and controlled in Industries.
Industrial Automation Lab: Our Automation lab is equipped with Allen Bradley and Delta based PLC trainers, and PLC based pneumatic trainer giving us the distinction of being the only dept offering practical training in Industrial automation in the state at the Diploma level. The Lab imparts training in Electro pneumatics and programmable Logic controllers both widely found in automated assembly lines.
Mr. BRIAN SOARES
I/c HoD, Dept. of Electronics & Instrumentation Engineering
M.E (Digital Electronics)
hodinc-gpp.goa@nic.in
(0832) 2225973
Area of Interest: Microcontroller, Electro Pneumatic & Hydraulic, Industrial Automation & Building Automation
Salary: 150200/- (basic)
---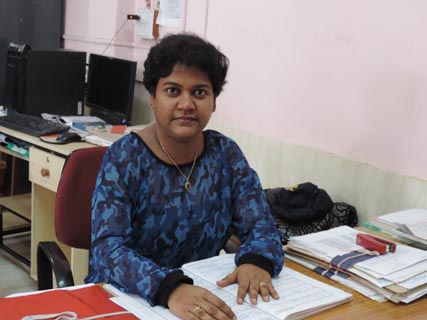 Ms. JOSMINA PERPETUAL SALES FERNANDES
Lecturer, Electronics & Instrumentation Engineering
B.E. in Electronic and Telecommunication
hodinc-gpp.goa@nic.in
(0832) 2225973
Area of Interest: Microcontroller, Power Electronics, Industrial Electronics
Salary: 65000/- (basic)
---
Ms. SNEHA V. GAUDE
Lecturer, Electronics & Instrumentation Engineering
B.E. in Electronic and Telecommunication
hodinc-gpp.goa@nic.in
(0832) 2225973
Area of Interest: Digital Electronics & Circuit Design
Salary:57800/-(basic)
---
Mr. NARENDRA GURAV
Chargeman
I.T.I in Electronics/ NCVT in Electronics Apprentice
hodinc-gpp.goa@nic.in
(0832) 2225973
Salary: 68000/-(basic)
---
Mr. JAGADISH H. BANDODKAR
Technician
I.T.I / NCVT in Electronics
hodinc-gpp.goa@nic.in
(0832) 2225973
Salary: 60000/- (basic)
---
Mr. RAJAN POLL
Laboratory Assistant
S. Y. B. Sc
rajanpoll@yahoo.com
9423060388
Salary: 58600/-(basic)
---
MS. VISHRANTI V. GAUDE
Hamal
VIII th  PASS
09545538832
Salary: 6480/- (basic)