Modern Office Practice Department
Overview
Laboratory
Projects
Staff
Time Table
In the modern high tech corporate world, office has come to occupy the central & an important place in every organization. For efficient administration of modern office, services of trained office personnel are in great demand.
Taking this fact in view, a 3 year diploma program in Modern Office Practice (MOP) was introduced in the institute in June 1999. This is a non engineering diploma program. Admission to this course is done on the basis of 10+2 (HSSC) marks of the admission seekers.
During this course of study, the students are taught various management, business & commerce subjects like Accountancy, Business Laws, Banking, Communication skills etc. They are also given intensive training in shorthand & typing, computers, handling of modern office equipments, Office management techniques etc. so as to enable them to handle various office jobs. To enforce these theoretical fundamentals, the students are sent to varied industries & offices for practical training.
MOP passed out students are eligible for admission to 2nd year B.Com under the lateral entry scheme of the Goa University. This is possible because the entire program is designed to be at the highest professional & technical level and different in its approach to other prevailing programs.
The focus of the Modern Office Practice department is towards developing students with efficient typing and stenography skills to make them more employable. The Typing Lab was established with 25 manual Typewriters to give the new students a sound base for developing speed & accuracy in stenography, typing, shorthand and transcription. The skill thus obtained prepares them for higher level of computer typing.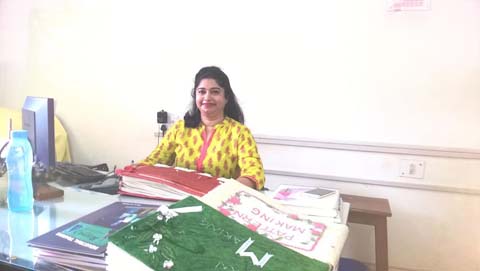 Ms. CHERYL ARAUJO SALDANHA
I/c HoD, Dept of Modern Office Practice, Lecturer(Sl.Gr.)-Garment Tech.
M.Sc. (Textiles & Clothing)
hodmop-gpp.goa@nic.in
09822982972
Area of Interest: Textiles & Clothing, Department Administration & Development, Computer Applications & Office Automation.
Papers Published:
1.Study on non Durable flame retardant with stiffness on cotton-Colourage Aug 97
Pay band: 37400 – 67000 AGP-9000/-
---
Ms. RANJITA AMONKAR
Lecturer, Modern Office Practice (Contract )
MBA ( Human Resources & Finance)
ranjita.amonkar@yahoo.com
(0832) 2421475
Area of Interest: Management, Finance & Business Laws
Consolidated Salary: 30,000/-
---
Ms. ASMA SHEIKH
Lecturer, Modern Office Practice (Contract )
MBA ( Human Resources & Marketing)
Asma1701@gmail.com
(0832) 2421475
Area of Interest: Management, Human Resources & Entrepreneurship
Consolidated Salary: 30,000/-
---
Ms. AASHITA A. FADTE
Instructor, Modern Office Practice
M.A, B.com., Diploma in shorthand, Typing & Computer
vithaborkar@gmail.com
(0832) 2421475
Pay Band: 9300-34800+GP 4200/-
---
Ms. RENUKA NAIK
Lower Division Clerk
BA
hodmop-gpp.goa@nic.in
(0832) 2421475
Pay Band: 5200-20200 + GP 1900/-
---
Ms. YELLAWA HARIJAN
Hamal
Literate
hodmop-gpp.goa@nic.in
(0832) 2421475
Pay Band: 5200-20200 + GP 1800/-